Located in the heart of Bangkok's tourist centre Nana and half-way down Sukhumvit soi 3 is Taye Ethiopian Restaurant. A family run restaurant that has been operating for over a decade and is serving up the 3 Cs of real Ethiopian Cuisine, Culture, Coffee!
The restaurant itself is clean, welcoming, and spacious with traditional scarves, and colourful photos of spices adorning the walls, while North African and Ethiopian music plays softly in the background.
Now, you may be forgiven for lacking knowledge of Ethiopian cuisine. However, it's quickly becoming a very hot & trending cuisine that's been gaining increasingly popularity around the world.
So, let me take you through a crash course with this go-to guide to Ethiopian cuisine. The characteristic of Ethiopian food is very distinct yet familiar, it amalgamates many elements, such as earthy, spicy, tart, sour, and pungent flavours.
The Spices
The main seasoning is a blend of spice known as 'Berbere' is used as a base for a wide variety of savoury, spicey Ethiopian dishes. Berbere is made by blending chili peppers, garlic, cinnamon, ginger, cardamom, and coriander. These blends can vary slightly from household to household.
These spices are used in both vegetarian & meat dishes and both are commonly eaten with the other main staple of Ethiopian cuisine, known as injera.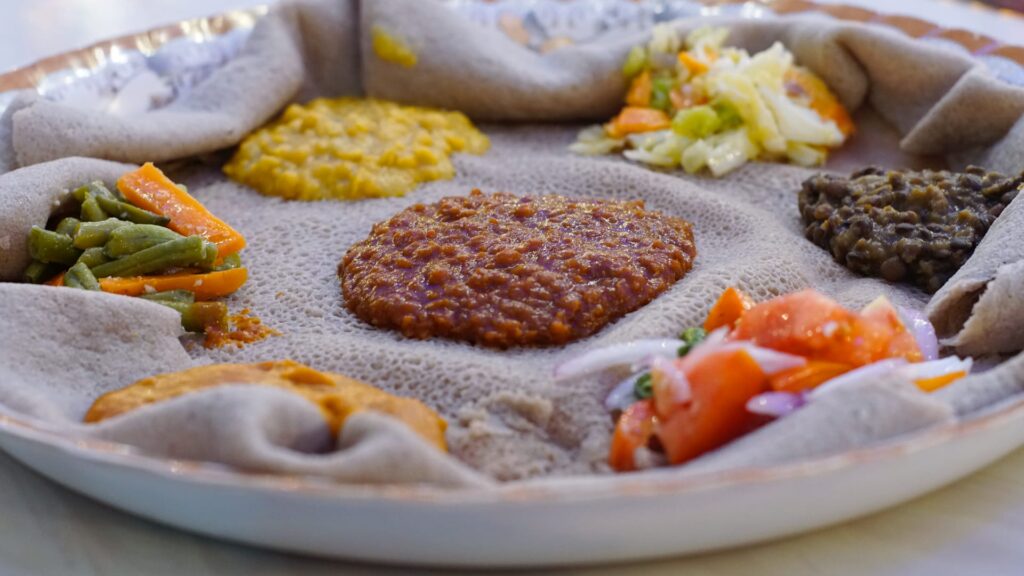 The Bread
Injera is delicious, fermentedcrape-like flatbread with a slightly spongy texture. Made from teff, a grain and one of the earliest plants domesticated, and is also mostly unique to Ethiopia.
The process of making Injera takes 3 days and is made with 3 simple ingredients, Teff, water, and yeast, which also comes from the teff plant.This is made into a dough which is the left to prove over a few days to allow for fermentation, giving the bread it's wonderful and slight sour flavour profile, its distinctive tang is one of the defining flavours of Ethiopian cuisine. These flatbreads are then baked in a large clay griddle pan called a mitad. With the large platters, the food is served directly on top of the injera flatbreads while more are rolled into a cylindrical shapes and served at the side of the dish.
When eating most Ethiopian dishes, injera is used instead of utensils. By simply tearing off a piece of the flatbread and holding it between your fingers to scoop up a morsal of food, to make the perfect vehicle for the perfect bite of food.
The Cuisine
We wanted to start off with an appetiser so we ordered the 'Sambusa', thin, flaky dough parcels stuffed with lentils and the berbere spices. Much akin to the Indian Samosas, these are savoury and delicious. At Taye they have around seven or eight different variations stuffed with a variety of fillings from savoury lentils, beef, and veggies to sweet one stuffed with mango, banana or even egg.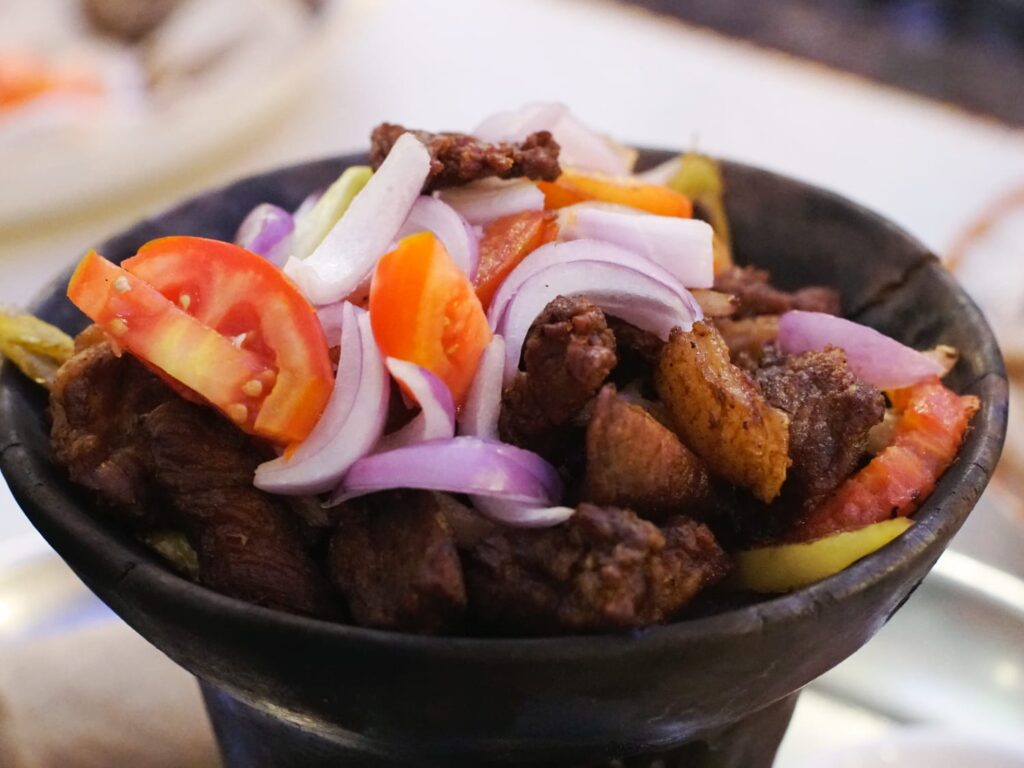 Next up was the 'Derek Tibs' which may sounds like somebody's name but is in fact a sizzling dish of beef tenderloin, onion, peppers, and tomatoes served in a flaming hot earthenware pot with hot coals on the bottom.
The smell is tantalising as the beef sears in front of you, until it's a little crispy and the fat is slightly charred taking on a lovely smoky flavour from the coals and the clay pot itself.
The tibs comes with a side sauce, known as awaze, this one was made with red peppers, lemon, olive oil and spices. The combination of seared meat, spice, peppers, and onions as well as the fiery red sauce, all wrapped in that tangy injera that really make the dish standout.
It's Combo Time!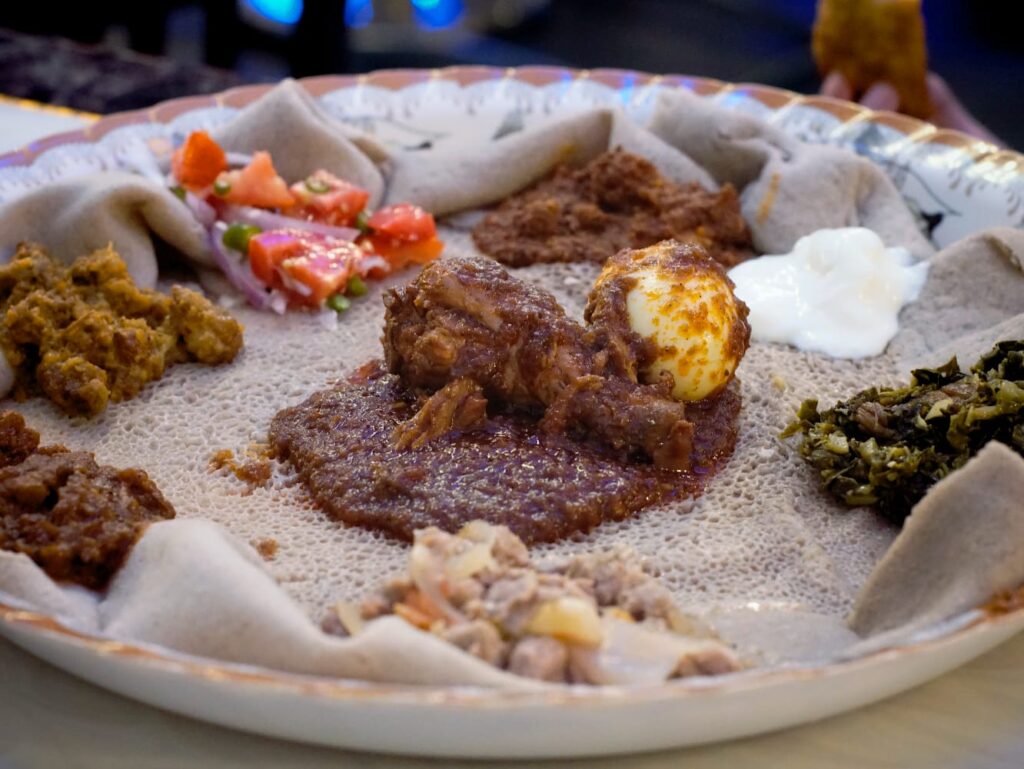 The real stars of the show were the combination plates, Taye has both a vegetarian and a meat combo platter to choose from and both are served on and with the ubiquitous injera.
The vegetarian option or Beyainatu which translates as "a bit of every type," boosts seven different dishes; including the Ethiopian fresh tomato, chili, and onion salad, alongside sauteed carrots with green beans, as well as spiced lentils dishes like Kik Alicha a mild stew, made with turmeric and spices but my favourite of the veggie dishes was the Shiro Wot, stewed ground peas cooked in with onion, garlic, and those berber spices. We also had a soup version of the Shiro which was out of this world with flavours of tomato, peppers, that gave a slight roast nuttiness to the dish.
The meat combo platter is plated the same manner as the vegetarian version being served directly on top of the injera flatbread. This is a vibrant plate of food both in terms of colour and flavour, rich spicy stews of beef, lamb, and chicken together with more of that deliciously fresh tomato salad that you find in North Africa, the Middle East, and the Mediterranean.
The dishes that really shone for me were the Doro wat or chicken stew, flavoured with the berbere spice mixture, onions, garlic, and ginger which comes with a hardboiled egg and the hearty, bold, and spicy savoury beef stew 'Kay Wot' a must try!
The Coffee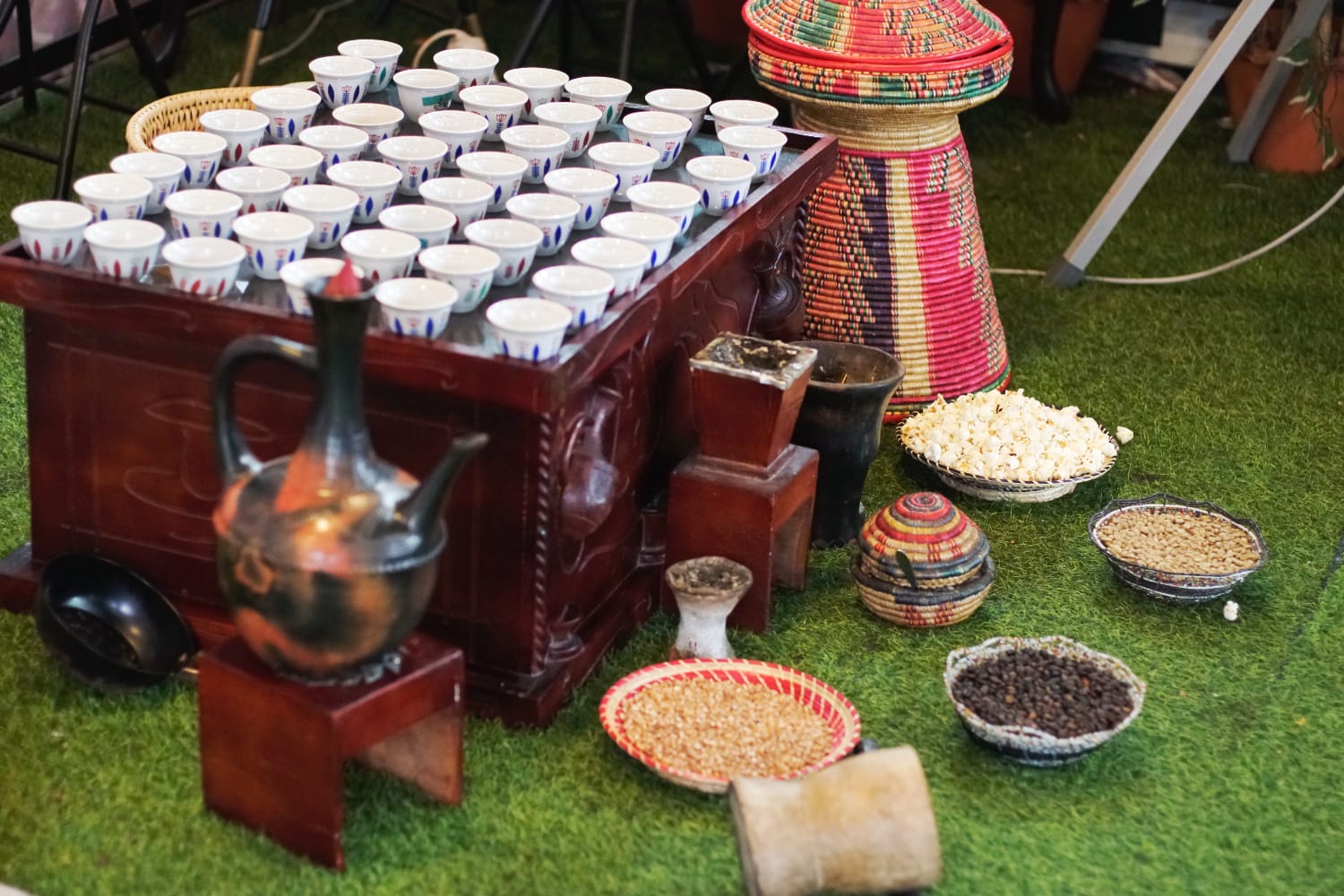 Ethiopians take their coffee very seriously and will end most meals with coffee. It is also the centrepiece of an elegant ceremony which is an unforgettable treat to witness. In a typical household this ceremony is conducted three times a day.
Performed by women, the coffee ceremony starts off with the burning of incense and is followed by roasting green coffee beans over an open flame in a long-handled pan until they're black, at which point we were invited to stand and come closer to savour the wonderful aroma.
The beans are then grounded manually in a with a pestle and mortar before being added to a special clay pot called a jebena. The coffee grounds are then submerged in water and set on the fire to boil.
When the coffee is ready, it's is left to settle for a short while before taking the jebena and holding it high in the air, and gracefully pouring the coffee into small cups. Now, as a lover of strong black coffee, this really hit the spot. Dark, roasted and slightly smoky and full bodied. Just wonderful!
Unique Dining Experience
Taye Ethiopian Restaurant is a fantastically unique dining experience from the edible plates to the rich vibrant stews and fresh salads. Great for vegetarians and just perfect for your next works dinner or night out with friends and family. However, even if you don't have a group, don't let that hinder you. Come and enjoy great hospitality that Taye has to offer